George A. Kendall
Biography
George A. Kendall was born in Saginaw, Michigan in 1942 (canned bios tend to studiously avoid giving any clue to the person's age, so I thought, being something of a contrarian, I would make this one the exception). He has a B.A. in philosophy and an M.A. in sociology from the University of Detroit, and got to the A.B.D. (all but dissertation) stage at Michigan State University, where he studied sociology. He has been a contributing editor of The Wanderer, a national Catholic weekly newspaper, since 1986 and has published numerous articles (probably in the hundreds) there and elsewhere, including several in journals of philosophy and theology. An old bachelor, he has lived for a number of years now in the tiny village of Grand Marais in Michigan's Upper Peninsula. He credits Grand Marais with doing much to deepen his understanding and appreciation for community, as well as being the most beautiful place God ever created.
Books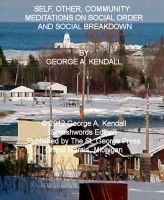 Self, Other, Community: Meditations on Social Order and Social Breakdown
by

George A. Kendall
A collection of essays about the modern world's attack on human community in the pursuit of wealth and utopian social engineering schemes. The essays emphasize that we exist for the sake of community, which embodies love, not for the sake of wealth or power, which are means. Our spiritually diseased elites reverse the order, creating the mess we are in now.
George A. Kendall's tag cloud