Stuart Lewis
Biography
Stuart Lewis, businessman and writer, lives in Toronto, Canada. His thirst for learning and adventure took him behind the Berlin Wall of East Germany in the spring of 1983—a journey that led to a profound philosophical introspection and (life) transformations decades later. That life began as a secular Jew and evolved to religious observance and ensuing struggles. Ultimately, he allowed the world to become a part of him and he was ready for anything. Stuart hopes this work will prompt others to ponder their own predispositions and ultimately bring down walls in their own lives. His first book, When Walls Become Bridges is his compelling and thought provoking story.
Where to find Stuart Lewis online
Books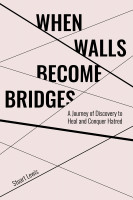 When Walls Become Bridges: A Journey of Discovery to Heal and Conquer Hatred
by

Stuart Lewis
This narrative begins with a true account of a Jewish man in the heart of the Cold War. On a spontaneous trip to East Berlin, Stuart Lewis meets a man named Frank who lived within the confines of the Communist Soviet system. The divisions between the East and the West are disturbingly similar to the realities of today, proving that connecting with each other as human beings trumps all.
Stuart Lewis' tag cloud