Studio City
Publisher info
Studio City Media Endeavors is the publishing division of a small marketing company based in the Minneapolis area, Studio City. We help authors who choose to self-publish get their book on the market quickly using print-on-demand and eBook technology. We offer a bevy of services and you can choose what you need from us. It takes a lot of know-how to design an effective book cover, format a manuscript for print and digital publication, and make it available for sale online. Not everyone has the time or desire to figure out how to do it themselves. If there are parts you feel capable of doing, that's great! We only charge for the services you ask us to provide. The best part is, with Studio City, YOU stay in control and keep ALL the royalties from your book!
Where to find Studio City online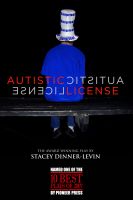 Autistic License
by

Stacey Dinner-Levin
The play by Stacey Dinner-Levin named one of the "10 Best Plays of 2007." This touching, funny, educational, and inspirational play will lift the heart of anyone who has ever faced adversity. Audiences are ravenous for this play and demand has spawned an annual tour (and national productions) every year since it opened. Now you can read the script and see photos from the various productions.
Studio City's tag cloud