Sue Hull
Biography
Sue Hull is the author of "Mara Haviland", a soaring saga of love, betrayal, and adventure during the English Civil War and the early years of the American colonies. Writing as Suzanne W. Hull, Sue wrote two non-fiction books: "Chaste, Silent & Obedient: English Books for Women 1475-1640" (1982, 1988), and "Women According to Men: The World of Tudor-Stuart Women" (1996; in Japanese 2003). All her books are available in printed form at Amazon.com. She was a director of the Huntington Library, where she founded its Women's Studies Group, and president of the YWCA of Los Angeles. Ms. Hull died in 2006.
Where to buy in print
Books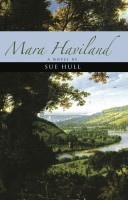 Mara Haviland
by

Sue Hull
The lovely and spirited Mara Haviland, heiress to a large English estate, finds her world overturned when she is betrayed by a powerful man, and she must journey -- first across Cromwell's war-torn 1640s Britain, then to the dangers of the New World -- in her quest to restore her rightful life and regain the man she loves. " . . . A lively, thoughtful, and enduring heroine . . . "
Sue Hull's tag cloud