Sue Katz
Biography
Sue Katz is a wordsmith and rebel who has lived and worked on three continents: first as a martial arts master, then promoting transnational volunteering, and currently teaching fitness and dance to seniors and elders. Her fiction and non-fiction have been published for decades in anthologies, magazines, and online. She spent several years shining "Lillian's Last Affair and other stories" and this book is the love of her life. She wrote the book "Thanks But No Thanks: The Voter's Guide To Sarah Palin" in 28 days and nights. You can reach her at consentingadultpress@hotmail.com.
Books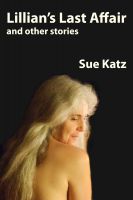 Lillian's Last Affair: and other stories
by

Sue Katz
"If I'm going to go after one more affair of the heart at 84, I'd better get my ass in gear," says Lillian, speaking for all the characters in these six stories. Sue Katz's hilarious, tender, and impeccably written stories confirm that age fails to erode our eccentricities or dull our ardor. " Buckle your seatbelt for an exhilarating ride," writes one reviewer.
Sue Katz's tag cloud