Michael Chow
Biography
Michael Chow is a lay Christian. He is a former systems analyst, and now pursuing his passion to make sense of the gospel.
One morning, a thought flashed through his mind, that the Beatitudes and the topics in the Sermon on the Mount must be connected. The thought inspired him to look for more connections elsewhere, and he detected several. He later discovered that complexity theory also uses connections as a strategy to study complex systems. He now brings complexity theory to bear on the gospel.
Books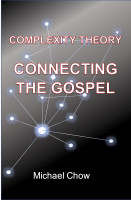 Complexity Theory Connecting the Gospel
by

Michael Chow
Complexity Theory is an approach to study and understand complex systems and problems. In this book, you will see the gospel through the lens of complexity theory. Two case studies, justification and the Sermon on the Mount, are presented to showcase the merits of the theory.
Michael Chow's tag cloud