Sunkanmi Vaughan
About me?
My name is Sunkanmi Vaughan.I am a business strategy consultant, author, University of Lagos-trained pharmacist and speaker who help individuals and organizations overcome the challenges of business start-up and survival.

My consulting firm, Bizlifelines, has attracted numerous clients including businesses, non-profits, and enterpreneurs. I have worked with other respected consultancy outfits for large corporate engagements.I am presently a consultant on training to the Lagos State Government, Nigeria's economic nerve centre and one of the leading economic hubs in Africa.I have also trained budding entrepreneurs and employees of organizations with over 50 staff strength.

The results my clients enjoy include:

- Higher employee productivity and inventory control.

- Increased patronage and business funding.

- Objective recruitment process and cost-effective training of quality workforce.

- Enhanced client relationship and lots more.

I am a member of the Nigerian Institute of Management (NIM) , Chartered Institute of Loan & Risk Management (CILRM) and Pharmaceutical Society of Nigeria (PSN).I currently run my radio show'Biz Lifelines With Sunkanmi Vaughan' on leading premium radio stations in Nigeria.
I am involved in philanthropy and regularly donate books to non profit libraries based in Nigeria notably Ignite Africa library, ZODML Library http://zodml.org/node/8090#.WChVGJwo_qA

I am happily married to Bola, a Chartered Stockbroker,and we currently reside in Lagos with our three children: Oluwabukolami, Olanrewaju and Olaoluwa.
I can be reached directly on +2348173111771,+2348036671836
Watch "Channels Book Club: Interview With Sunkanmi Vaughan" on YouTube
This is a very interesting video I will plead with you to watch. It's just a 12.58 minutes video of my interview on Channels TV Book Club. This video is particularly precious because it was in it I shared the story behind this book and how I overcame the difficulty of writing this book the Channels TV Book Club described as 'ground breaking '.Please enjoy.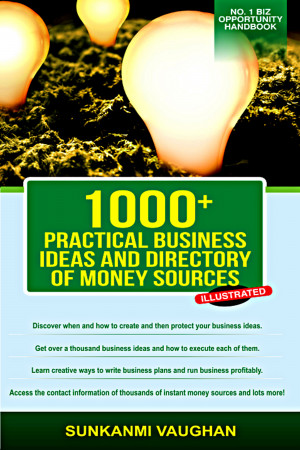 1000+ Practical Business Ideas and Directory of Money Sources
by

Sunkanmi Vaughan
This is the No. 1 Business Opportunity handbook. This book will help you; -Discover when and how to create and then protect your own Biz idea; -Get over one thousand practical biz ideas and how to execute each Biz idea. -Learn creative ways to write Biz plan and practical tips on how to run your biz profitably - -Access the contact information of thousands of instant money sources & lots more!