Suraj Kothiyal
Biography
The author, Suraj Kothiyal, hails from the beautiful city of Dehradun with his family roots belonging to the Himalayan region. His parents are teacher by profession, brother works in a software firm and wife is a dance teacher. A mechanical engineer and an MBA in marketing, Suraj, had five years of corporate experience before he started his own entrepreneurial journey.
Today Suraj's construction firm develops beautiful living spaces for its customers in Dehradun.
Apart from marketing and construction, Suraj has keen interest in writing. He has been writing since childhood. Initially the hobby started out as writing poems in Hindi for school magazine. His love of poetry continues, and his collection of Hindi poems can be seen on his personal blog that goes by "poems.surajkothiyal.com".
As a child, whenever Suraj went close to the mighty mountains of Himalayas, they whispered a story in his ears. These stories later ignited a passion in him to write historic fictions and it's his endeavor to bring to light the highly diversified and rich culture across the world. This book is inspired by a popular folklore in Bali that talks of a Hindu saint namely, Maharishi Markandeya, who came to Bali from India and introduced Hinduism on the scenic island.
Books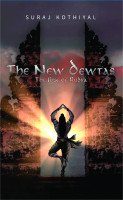 The New Dewtas - The Rise of Rudra
by

Suraj Kothiyal
Neer, the head priest of the Himalayas, is troubled by the horrifying visions in his dream. On Ganga Maiyya's behest, he embarks on a journey to the doomed island of Bali. The island, plagued with cyclic torments of Sekala and Neskala and suffering from constant rainfall, faces an imminent danger of drowning in sea.
Suraj Kothiyal's tag cloud