Susan Stocker
Biography
Writing since I was a child growing up in Long Beach, California, I've always enjoyed making people laugh. I heard "you should be a writer" starting in grade school. Many careers later, which included graphic design, photography and social work, I have finally come full circle back to the writer phase and I love it.
I live in Claremont, California with my partner Jan, and a variety of pets on our one third acre.
We enjoy frequent international travel and are both avid photographers. We volunteer at Crossroads which is a program for woman coming out of prison. I lead a therapeutic writing group and Jan is a cooking coach.
Books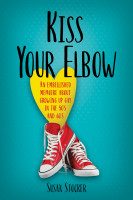 Kiss Your Elbow - An Embellished Memoire about Growing Up Gay in the 50's and 60's
by

Susan Stocker
Susan is tall, athletic, and a tomboy. Her quirkiness allows her to move within the worlds of both boys and girls. At constant battle with her mother who wants her to be a "normal girl" and an older brother whose mission is to make her life miserable, she struggles to discover and accept who she really is, in this embellished memoir of growing up gay in the 50's and 60's.
Susan Stocker's tag cloud