Steve Caulley
Biography
Steve Caulley has been working in southern Africa, training Christian leaders for 26 years. For the last 20 years he and his wife, Brenda, have lived and worked in Kimberley, South Africa, where Steve administers and teaches at South African Bible Institute, which he helped start in 1997. Steve and Brenda have four children, three in Oregon and one still in South Africa.
Where to find Steve Caulley online
Books
The Life and Teaching of Jesus Christ
by

Steve Caulley
The Life and Teaching of Jesus Christ is a two-part harmony of Matthew, Mark, Luke and John. The first portion of the study harmonizes all of the events in Jesus life in chronological order. The second half is a synthesis of all of Jesus teaching around the theme of the Kingdom of God (the Kingdom's Messiah; membership in the Kingdom, the character of Kingdom citizens, etc).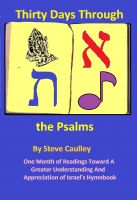 Thirty Days Through the Psalms
by

Steve Caulley
(5.00 from 1 review)
Thirty Days Through the Psalms is a nontechnical study in which the 150 Psalms have been divided into 30 daily readings of similar length (about 82 verses per day). The grouping of these psalms is based on: their types ; their possible uses in Jewish worship; as well as traditional categories. Each day's reading includes a short introduction that gives background to the group of psalms being read.
Steve Caulley's tag cloud