Sheridan Robinson
Biography
My name is Sheridan Robinson and I am a student at Full Sail University Online. I am currently studying to get my degree in Creative Writing for Entertainment. I love writing stories, it is a big part of my life and my favorite thing about writing is that everything that surrounds you can be a story. I also enjoy reading and watching other people creative work, entertainment is a big thing in my life and imagination; certain things in life wouldn't be as fun without an imagination.
I was inspired to become a writer and director when I was in high school doing a project for extra credit, since then I have always wanted to entertain people. I believe that showing people your imagination is a lot more rewarding then getting paid and I feel that when people also drift into your daydream is a huge accomplishment, to be able to have your fans or viewers drift into a imagination while watching your film and being subdued by a masterpiece. I feel that people should experience a movie as if they were going through the same issues as the main character.
Books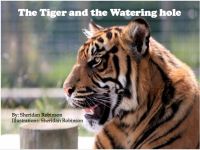 The Tiger and the Watering Hole
by

Sheridan Robinson
(4.00 from 1 review)
The story is about a tiger that is very thirsty and goes on an adventure to find water. The tiger finds a watering hole that was just to far to reach but with a little problem solving he was able to get the water he was searching for.
Sheridan Robinson's tag cloud