Kael Dixon
Biography
Kael Dixon is the owner of a successful financial literacy company and the author behind How to Save More Money Guaranteed. With a degree in finance from Howard University and years of personal finance research under his belt, he's one entrepreneur with a knack for targeting financial success.

In 2005, Kael found himself fresh out of college and just plain tired of running out of money. Something needed to change. Kael spent months researching and applying personal finance theories, strategies and techniques. It was a process that challenged him to grow and provided him a way to save more money consistently.

The result? Kael learned that saving money was a skill anyone could learn. Today, he's mastered the skill in his own life and now he's ready to share this knowledge with you.
Books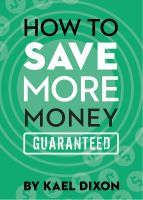 How to Save More Money Guaranteed
by

Kael Dixon
How to Save More Money Guaranteed is a time-tested system that puts more money in your pocket. Whether you hate numbers or cannot live without them, this straightforward book will help you increase your savings.
Kael Dixon's tag cloud