Shirley Sydenham
Biography
About Shirley Sydenham

Shirley was born in Shanghai and lived in Hong Kong till she was 12, when the family moved to Melbourne, Australia.
She's had a long career in primary schools as a classroom teacher at all year levels. A trained drama teacher, she also taught drama and directed school productions. Shirley has also been an education consultant in drama and cooperative learning, before working at Werribee Open Range Zoo as a Safari Guide, and later at Melbourne Zoo.

Shirley first started writing in 1975. She has written a large number and variety of titles on her own and with co-writers. One writing partnership included plays for children, to be performed by adults for children or by kids, and the formation of a production company that produced them in local venues.

Shirley's interest in theatre includes acting, directing as well of course as participation as an audience member. Shirley's interest in animals these days is mostly focused on her dog Ginger. Other interests include cooking, reading and travel.

Shirley's longest writing partnership has been with Ron Thomas, with whom she has written dozens of titles, including black-line masters, teacher resource books and short stories. Together they established and co-author a website for kids and teachers, www.kidcyber.com.au. From its origins as a website to support a series of teacher resource books about developing research skills from K to 6, it has grown into an extensive, successful and very popular site accessed by thousands of students in Australia and abroad.
Books
All Kinds of Bears: An Integrated Unit for Elementary School
by

Ron Thomas

&

Shirley Sydenham
This integrated unit is a practical guide for teachers who want to try inquiry-learning and extend the work to cover all curriculum areas around the topic of bears. Activities in math, creative writing, science and technology, drama, music and art as well as health and physical education are included using a fun approach. Games, songs worksheets as well as assessment guides are included.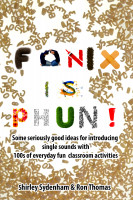 Fonix is Phun! Some Seriously Good Ideas for Introducing Single Sounds Using 100s of Everyday Fun Classroom Activities
by

Shirley Sydenham

&

Ron Thomas
A practical format for the introduction of single sounds with fun activities for each letter of the alphabet. Repetition helps the learning and the fun stuff helps recall. Aside from language arts, activities include games, math, science, music, art and drama. Students will enjoy these enjoy the activities, the results of which will decorate your classroom, increasing the stimulation of learning.
Poet – Pourri: Writing Poetry in the Elementary - Middle School Classroom
by

Ron Thomas

&

Shirley Sydenham
A practical guide to introducing and developing poetry writing to assist teachers/educators to teach and assist children to write in a poetic form. There are over twenty models of helpful poetic structures to share with students as they begin their poetic writing, including haiku, acrostics, senyru, limericks and others. Worksheets are included to guide and support students.
Shirley Sydenham's tag cloud