Tabitha Mills
Biography
As it pertains to finding effective weight loss methods after childbirth, Tabitha Mills can safely say that she had tried almost everything. Suffice to say that she went against the orders that her doctor gave her to recover and started exercising too early in a bid to lose the excess weight, her actions almost got her readmitted to the hospital.
Under her doctors strict care, Tabitha was put on a healthy food regimen and in no time she was able to start exercising, and before she knew it, she had lost most of her pregnancy weight. She learned a lot throughout the process and decided to write a book that would help other mothers to know how they go from one stage to the next. It is a simple process. The mother just needs to have the patience to get it all done.
Books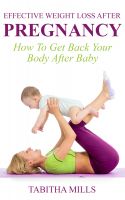 Effective Weight Loss After Pregnancy - How To Get Back Your Body After Baby
by

Tabitha Mills
"Effective Weight Loss After Pregnancy" is a book that gives the new mother the basic advice that they need to not only learn how to get back in shape but how to eat right while doing it. A lot of women tend to go against their doctors orders in a bid to lose the excess weight quickly. This ends up doing more harm than good and can land them right back in hospital if they are not careful.
Tabitha Mills' tag cloud