Paul Fowler
Biography
I love the art of writing; whether it be a book, a song, a poem, a screenplay, etc. I am originally from California, but moved to Nashville in the late 90's to be a songwriter. I ended up bounty hunting because, not only do I love the job, but I also love the schedule flexibility it allows for pursuing my musical and writing endeavors.
Smashwords Interview
Books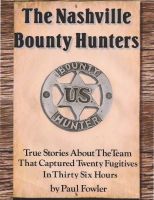 The Nashville Bounty Hunters: True Stories About The Team That Captured Twenty Fugitives In Thirty Six Hours
by

Paul Fowler
This book is about the history of bounty hunting, the ins and outs of the field, and some personal experiences my team has had tracking, apprehending, and incarcerating Tennessee's fugitives from justice.
Paul Fowler's tag cloud