Boyd Aaron George
Biography
Boyd Aaron George was born in Monrovia, Liberia, in West Africa. He gave his life to the Lord Jesus Christ at an early age, but he still lived much like other kids. During the 1990 tribal conflict in Liberia, which resulted in a brutal war, Boyd said to the Lord Jesus Christ , "If you have a plan for my life, let me know your Word." God answered this prayer, and Boyd soon after enrolled at the Monrovia Bible Training Centre, where he obtained a diploma in a two-year ministerial training program. The Lord then led him to continue his training at the Spiritual Life Bible College in Monrovia, where he also obtained a bachelor's degree in biblical theological studies. Because of the continuous tribal conflict, Boyd and his family later moved to the refugee camp that was set up by the United Nations Humanitarian Commission for Refugees (UNHCR) in Buduburam, near Accra, Ghana. In 2006, the Lord gave him and his family the opportunity to resettle in Australia, where they presently live. In 2012, Boyd had to make a decision between self and God, a decision that was to determine the final chapter of his ministerial life. Boyd believes that because of the grace of God through Jesus Christ on his life, he was empowered to choose God and to walk with God, and today this book and others that are to come are the reward for his obedience.

Dr. Pamela Atieno Odhiambo Abuodha was born in Mombasa, Kenya, in East Africa. She is the only child of her late parents. At the age of five, she lost her mother to breast cancer and went to live with her maternal grandmother in the village. The grandmother, a believer in the Lord Jesus Christ, brought her up in the things of God. From the age of ten, she went to Catholic boarding schools until she entered the university. She gave her life to Jesus Christ at the age of twenty, while in high school. Pamela holds a first-class honours degree and a master's degree from the University of Nairobi, Kenya. In May 2005 she joined the University of Wollongong, New South Wales, Australia, to pursue a PhD in coastal geology. As a researcher, she has several scientific publications to her credit. "But God had plans for me to assist in the kingdom work rather than be a 'doctor of stones,' as a geologist is known in most African languages. It has been awesome to witness God download the contents of this book, chapter by chapter," she says. Glory be to God.
Books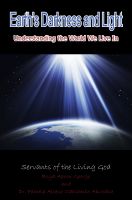 Earth's Darkness and Light: Understanding the World We Live In
by

Boyd Aaron George
Earth's Darkness and Light speaks of the orders that exist over earth which are the order of Light and the order of darkness. It reveals how mankind a living soul can experience truth life. It speaks of the deception that is a way of life today and addresses why mankind blames and rejects God. Life after death becomes a thought as it speaks of mankind being accountable for their action on earth.
Boyd Aaron George's tag cloud