TammyJo Eckhart
Biography
TammyJo Eckhart, PhD, is the author of seven previous books of BDSM fiction, and has been part of the BDSM community since 1990. 2010 saw the publication of her first non-fiction book from Greenery Press (At Her Feet: Powering your Femdom Relationship). She has been a leader in several BDSM organizations ranging from the AppleMunch to two difference university groups (Conversio Virium and Headspace) as well as a private support group for tops. As of the spring of 2010, her "kinky family" is comprised of Tom, her husband since 1992, and Fox, her slave since 1999. She loves visiting conventions as well as organizations to read, sell books, or offer her experience and insights on various topics in the form of lectures or workshops.
Where to find TammyJo Eckhart online
Books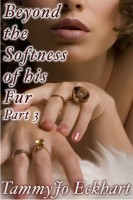 Beyond the Softness of His Fur: Volume 3
by

TammyJo Eckhart
Domme Emily Potter and her brilliant submissive pet—white fox morph Wynn—bring their edgy, sexy love story to a thrilling conclusion, navigating the complex path of their own unique relationship in an increasingly dangerous world that does not understand them. Wynn's self-awareness threatens the status quo. and the fears of the established order pose a threat to Emily and Wynn's very lives.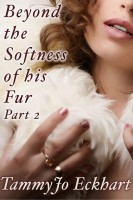 Beyond the Softness of His Fur: Volume 2
by

TammyJo Eckhart
Dominant Emily and her Intelligent pet fox morph Wynn learn that wynn must be sexually shared at her company retreat. Emily loves sex with wynn but hears of a commune that believes morphs ought to be free, leaving Emily with a difficult decision: keep her pet to be potentially mistreated by others or set him free in the commune. For all furry lovers.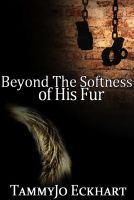 Beyond the Softness of His Fur: Wonders of Modern Science (Volume 1)
by

TammyJo Eckhart
When Emily is promoted, her bosses make it clear that there are certain expectations: she is to purchase a morph, an animal hybrid of the future that is both sexual pet and status symbol. Her own tastes require the unique: an exotic and submissive male pet. All desires are exceeded with Wynn, a white fox morph. But Wynn's uniqueness challenges the morph-cult status quo and could spell disaster.
TammyJo Eckhart's tag cloud