Tara Jane Manning
Biography
About the author:

Tara Jane Manning has a degree in psychology from Purdue University, received in 1983. She spent 20 years of her younger adult life as a social worker. Most of her work was with women experiencing problems in their relationships and their lives in general. Of all the areas of life that she helped women with, the area that they were generally most perplexed by was their sexuality and issues surrounding sex. Sex was also the topic most difficult for them to explore, however, even when it was at the top of their list as far as what was bothering them.

Tara Jane Manning is 51 years old, married, and has 2 grown children. The man that she is married to is her childhood sweetheart. They have been married for 32 years. In those 32 years they have worked hard to keep their lives, their relationship, and particularly their sexual relationship healthy and lively. They have visited places and taken advantage of experiences that they believe have contributed to opening their minds to ideas and concepts that most people don't ever get around to imagining.


Tara Jane Manning has, in the last few years, been unofficially researching sex and people's thoughts on its importance to their relationships. What she is finding is that people, when they are even able to articulate their thoughts about this, want that question answered, but don't seem to know where to find the answer. It's not out there in the current reading. Much of what people say they are looking for is a comfortable way to explore and truly discuss sex and it's meaning, as well as potential, in their lives, but there just isn't an avenue for such.

The premise of Hold Hands, Laugh, Make Love; Live Better and Longer that sex is basic, it's healthy, we're designed for it, and it's FUN will be the start of a new way to answer the questions that we all still have about ourselves and sex.
Books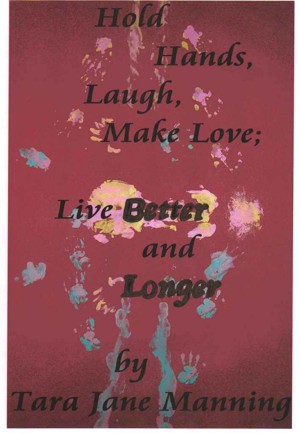 Hold Hands, Laugh, Make Love; Live BETTER and LONGER
by

Tara Jane Manning
Hold Hands, Laugh, Make Love; Live BETTER and LONGER is a work in which the author seeks to educate and entertain readers as they learn about sex, relationships, and their bodies. Through a combination of advice, information, and exercises she hopes to help readers improve their health, relationships, and sex lives, and to help them realize the importance of sex in a relationship.
Tara Jane Manning's tag cloud