T. Baggins
Biography
Orphaned at birth, T. Baggins was raised by wolves until age fourteen, when the pack moved on one night without a forwarding address. Returning to human society, Ms. Baggins taught herself to read and write by studying fan fiction. As a result, she still believes "Hiddlesworth" and "McFassy" are legitimate English words, along with manlovin'. In her spare time she enjoys reblogging posts on Tumblr, emptying gin bottles and petting housecats who plainly do not wish to be disturbed.
Where to find T. Baggins online
Books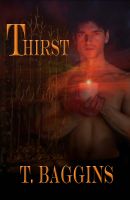 Thirst
by

T. Baggins
(4.50)
Glimpsed Through A Window Night after night, the nude man is visible inside his Manhattan highrise. Tall, dark and beautifully proportioned, he's a voyeur's dream. In the glittering city that never sleeps, plenty like to watch and plenty have enjoyed the free show. But the vampire known as Var wants to do more than just look.
T. Baggins's tag cloud