Todd Courtney
Biography
As a father for 17 years and watching kids grow into teens and young adults, I was inspired to help teens and young adults turn their lives into something they would be proud of and want to live for. The issue was most kids were repeating the cycles their parents had taught them. So, I created TeensCanDream.com, which provides many short ebooks on a variety of topics, to help our youth learn how focus their thoughts on what they want. I then wrote, Thinking in One Direction, to guide them further and will have more books to come. In addition, I created InspirationalNurseryRhymes.com to help start our toddlers off with positive children's books. During this time, I also created JustImagineIf.org which creates animation video's for people with leukemia and shows them how to focus their thoughts in the direction of a healthy body vs having thoughts of despair.
Where to find Todd Courtney online
Books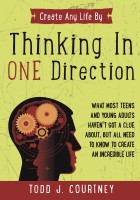 Thinking In One Direction
by

Todd Courtney
What teens and young adults haven't got a clue about but all need to know to create an incredible life. Thinking In One Direction is a practical guide to help teens and young adults unlock their potential. Ultimately, we just want to feel comfortable being the person we truly want to be. Create any life by Thinking In One Direction.
Todd Courtney's tag cloud