Tara Conrad
Biography
Tara J. Conrad is a seasoned and published author who has worked mainly in science fiction and fantasy now she seeks to expand now into a genre with a particular sentimental draw: romance.

Tara, obsessed with the science and philosophy of something so simple - yet so powerful - as love, wants to write novels, both short and long, about the incredibly nuanced and unfathomably complex joys and tribulations of falling in love, and to write characters that are both realistic and easily relatable to all readers.

In Tara's first romance novel, "Carla, Carlo & the Cartel," the concepts of love, danger and time are explored; and if the book is well received, more are definitely on the way - and may even expand into other popular genres.

Tara is a professional artist and author who decided to use free time to continuously create as much beautiful literary art as possible (in between writing much heavier works of fantasy and science fiction as well as other subjects).

Her website can be found at: tj-spencer.com.
Books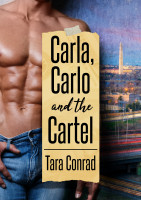 Carla, Carlo and the Cartel
by

Tara Conrad
A thrilling romance novel about a honest and kind-hearted pet shop owner who falls for a mysterious man with a dangerous past with a drug cartel that is hunting him for his betrayal.
Tara Conrad's tag cloud