Thomas W. DePaepe
Biography
Thomas W. DePaepe is a college graduate with a Bachelor of Science Degree with majors in Physics and Mathematics from Roosevelt University in Chicago, Illinois. He went on to do graduate studies in Physics at Northwestern University. He left school in 1965 to work as a research and product development scientist in consumer electronics. After 5 years in the technical field he went on to start his own small business in the suburbs of Chicago. Then he found a business opportunity in Colorado, which he owned and operated from 1976 until 1990. A serious physical injury forced him to sell that business. And after two years of rehabilitation he found a new career in technical sales. He retired comfortably from that career in 2008.
In the summer of 1950 a close friend of Tom's enlisted in the Marines and went into the Korean War. From then on he has had an avid interest in American politics and international affairs.
Books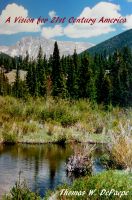 A Vision for 21st Century America
by

Thomas W. DePaepe
After 9/11/2001, I began to study Islamic history. I saw similarities between our war on terrorism and the past war on the spread of communism and wondered what we could do to defend ourselves against terrorism. The solution appears to be achieving energy independence. This book explains how doing that will help us create the strongest nation on earth.
Thomas W. DePaepe's tag cloud