Marj Teague
Biography
Marj taught Sunday School for thirty years, always trying to make narrations lively and relevant. She brings to her work experiences of a full and varied life as a former Woman Marine First Lieutenant, professional painter who had her own art gallery for forty years, a breeder of dachshunds for twenty years and a single mother who read Bible stories to her son and daughter each night through their childhood. This "fun lady" considers her book "Bible by the Spoonful" her most important life work.
Books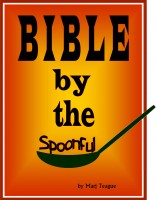 Bible by the Spoonful
by

Marj Teague
There's no other Bible story book on the market like "Bible by the Spoonful". It's a collection of Bible stories. The stories are simple, for kids, full of factual material for an adult who was bored with Sunday School and a fun review for the erudite Bible scholar.
Marj Teague's tag cloud