Ted Lampron
Biography
Ted grew up in Westbrook, Maine where he attended the University of Maine, Portland Campus. He studied Journalism before embarking on a career in Business Management. He is now a fulltime author who enjoys reading books based on light fantasy, adventure, and other action genres. Ted is a fan of hidden clues and secret codes found in some action thrillers, like Dan Brown's, 'The Da Vinci Code', and James Rollins, 'Map of Bones". The Valley of Orbs, is Ted's first novel.
Where to find Ted Lampron online
Videos
IMAGINE
You may or may not believe in spirits or ghost or other forms communication beyond that of reality, but you would be wrong in your assumption, although I must clarify...I am not talking about some disembodied soul floating around as a white transparent figure trying to scare children at night. What I am talking about is a different world, another dimension of time and space that already exist. A place deep in the shadows of the mind beyond our conscious knowledge.
Books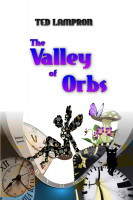 The Valley of Orbs
by

Ted Lampron
After discovering a secret underground laboratory that is over a hundred years old, three unsuspecting teens enter into an alternate reality from which they cannot return. Their only hope of survival depends on a reclusive hermit who lives in a cave.
Ted Lampron's tag cloud