Terry Neves
Biography
My personal philosophy in life is "The more people you can help achieve the things in life that they want, the more of what you want in life you will have".

Over the years, I have helped thousands of people become successful in their businesses.

I have owned many successful multi-million dollar companies and have dedicated my life to helping others succeed.

Many people struggle to have the life that they want and deserve . . . but it doesn't have to be that way!

By knowing how powerful the mind is and knowing how to harness that power, you can have anything in life you choose.
Books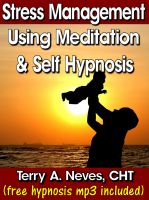 Stress Management Using Meditation and Self Hypnosis
You can't completely eliminate stress from your life, but you can control how it affects you. Meditation and self hypnosis activate the body's relaxation response, a state of restfulness that is the opposite of the stress response. When practiced regularly, they both lead to a reduction in your everyday stress levels and boost your feelings of joy and serenity.
Terry Neves's tag cloud