Terry Oftedal
Biography
It all started with a dream. At that time, in 1972, he had no thought of becoming an author.

Today Terry Oftedal is living quietly with his wife Kathryn in a small town near Portland, Oregon. After raising a family and retiring from a colorful business career which included trips to distant lands, Terry has found time to reflect and write. A life-changing dream he had as a young man in Ashland, Oregon serves as a backdrop for his first book The Story of Sunseed.

He says, "Read the book- it tells you all about who I am. I believe you will learn something new about yourself as well."

Note: Terry has pledged that 100 percent of the net proceeds from his writings will be donated to selected charities or gifted as "Sunseed Awards."
Books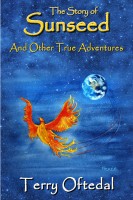 The Story of Sunseed — And Other True Adventures
by

Terry Oftedal
Some may call this a love story. It's that and more: memoirs, a spiritual quest, and reflections on wisdom gained along the way. The Story of Sunseed is a quintessential journey of our time. It compels us to take a fresh look at today's world and everything we think we know about it. By the end we learn just as our world has been transformed over a lifetime, the same opportunity exists for us.
Terry Oftedal's tag cloud