Derek Moody
Biography
My name is Derek Moody. For some time I suffered low testosterone in my thirties, so I researched everything (and I mean everything) about increasing naturally your testosterone.

The results, and how I got to optimize the hormone, is in the testosterone book.
Books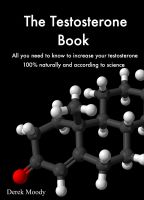 The testosterone book. How to increase testosterone naturally according to science
By
Derek Moody
Price:
$5.99 USD.
Words: 33,730. Language: English. Published: August 17, 2012. Category: Nonfiction
How to increase your testosterone, 100% naturally and according to science + How can you increase your testosterone levels without medications or shady supplements? + Only what really works and it's proven by science (more than 130 studies referenced) + Low testosterone? Low libido? Crappy mood and low drive? I was there, I fixed that naturally and this is how.
Derek Moody's tag cloud