T G Norris
Biography
Tom Norris is the author of "The Journey" which is an autobiographical account of his earlier years growing up in the farming communities of Southern Ireland.

From the time Tom left Ireland in 1974 he has travelled extensively throughout Europe, Asia and Africa. He has 3 daughters, two sons and lives in London - his home for over 30 years.

Tom is chairman of QFJ Media, the UK's largest Price Comparison Network, and writes passionately on Global Warming & Renewable Energy issues.

He is currently working on a no-nonsense e-business guide series called "Survival," aimed at assisting entrepreneurs and smaller businesses world-wide to grow their businesses.
Where to find T G Norris online
Books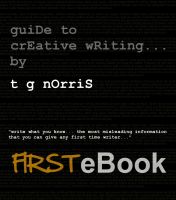 FIRSTeBook Guide To Creative Writing
by

T G Norris
Learn how the experts create compelling book titles and discover how to write blurbs that will make the difference. The FIRSTeBook Guide to Creative Writing takes no prisoners and dives in right from the start with excellent advice on writing your first book and some of the steps you should be taking to ensure that you have a successful outcome.