Thaddeus P. Collier
Biography
Thaddeus P. Collier lives on a small 'farmette' in Southern Illinois with his wife, Martha and Border Collie, Sasha. He actually does grow his own tobacco, vegetables, and apples which he and Martha freeze, dry, or can in the fall then totally consume during the long winter doldrums. Thaddeus got his initiation into the 'murky world of intelligence' while serving with the Army Security Agency in Vietnam. After 'one and a fraction of one other' tours in Vietnam, he was Honorably Discharged and took advantage of the G.I. Bill to earn three degrees at Southern Illinois University in Carbondale, Illinois. He bounced around various large companies and other types of organizations for the next twenty-eight years as a consultant, permanent employee, or secondment, becoming quite familiar with the ways both private and government organizations operate, think they operate, and ultimately truly function.
Books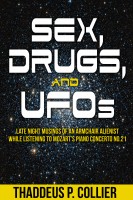 Sex, Drugs, and UFOs
by

Thaddeus P. Collier
What do Urban Tales and UFO reports have in common? Can "psychic plagiarism" and DMT explain the phenomena of UFO abductions? Was Roswell actually a cover-up for an A-Bomb recovery operation? Did the USAF use UFOs to cover up secret atomic aircraft experiments? Have aliens actually been visiting us as angels, demons, and BVMs for centuries? Your guess is as good as mine! But read mine first!
Thaddeus P. Collier's tag cloud