Michael Malone
Biography
I grew up as a typical suburban kid in Denton, Texas. I think of myself as the same and equal as everyone out here in Texas. I lived in Denton, Texas until I was 22 years of age until I wanted a change in my life as well as a change of setting, but really I just wanted to have an adventure in my life so when I was 22 years old I moved to the southern part of California to Huntington Beach, CA. I was in California for 2 years where I worked in a telemarketing call center as a assistant manager in sales. I found this to be where I found myself and this was a time period that shaped my character to who I am today. I really enjoyed the weather out in California, in fact for a while I even lived near the beach where I would many times just come out there to enjoy and be at peace on the beach. After living in California for 2 years I found myself wanting another change of scenery and wanting to be back with family, so I moved to Dallas, Texas. I am now 26 years old and am a student at the University Of North Texas. I did not take college serious right out of High School, but I now find it necessary to get a proper education. Other than being a student I like to be adventurous and trying new things whether that is kayaking on White Rock Lake, going to Dallas Cowboys game (I'm a diehard Cowboys fan) or trying new and amazingly big foods throughout Texas.
Where to find Michael Malone online
Books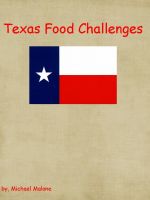 Texas Food Challenges
by

Michael Malone
A non-fictional book on food challenges through out Texas' food establishments.
Michael Malone's tag cloud