Gabrielle Cranny
I have always had a fascination with all things supernatural, and having lived in what many people described as a haunted house for several months only intensified my interest. My feeling is that angels don't play enough of a role in books/TV or movies, so I was determined to change that with my books. Everybody loves to see angels, just as they love to see demons, so with my books everyone gets the best of both worlds, with humour, romance, and everything your supernatural heart desires thrown in.

Writing to me is as important as breathing, for when I'm writing I am off on an adventure that literally has no bounds except my imagination. But when I'm not writing I am either coming up with new, and hopefully original plots, or on the lookout for the next adventure my characters may take. Don't get me wrong I do other things aside from writing, but I just love the characters I have created, they are a part of me and to some extent will always be.

This is the first novel I have ever written, even though writing has been a passion for me for so long, I was just too busy raising a family. But now that they are all grown up I can really put time aside to write, and it helps to have a very supportive husband spurring me on. This is the first book in the series that I plan to publish so keep an eye out for next installments.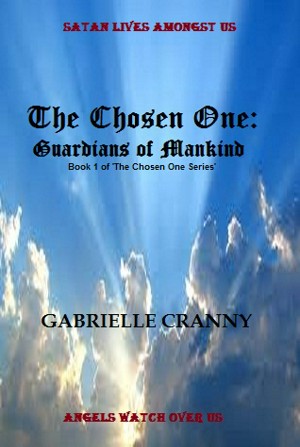 The Chosen One: Guardians of Mankind (Book 1 of The Chosen One Series)
by

Gabrielle Cranny
Sixteen year old Abby McDonald holds the key to the salvation and continuation of mankind! Little did Abby know that from the time of her conception Satan had been searching for her, intent on destroying her, for he knew just how powerful an adversary she would be. With the help of angels and her close friends Abby embarks on the most terrifying journey imaginable. She must succeed or else!!!