Foraker Smith
Biography
Foraker Smith was born in Monroe, Louisiana and raised in South Central Los Angeles. He was involved in the Education, Civil Rights, state politics and public consulting. Foraker graduated from L.A. Harbor Community College and went on to earn a Bachelor's and Master's degree from California State University Los Angeles. A PhD in Urban and Regional Planning and receipt of the coveted Dean's Award for Excellence followed at the University of California, Los Angeles. He was the university's first African-American graduate and recipient of its coveted Dean's Award for Excellence. Foraker was also California State Capitol's first African-American to hold the position of Chief Administrative Analyst in the Senate Democratic Caucus. Dr. Smith spent 38 years in university teaching at Pepperdine, USC, UC Riverside and Calif. State University Dominguez Hills. He retired from the latter university in 2010 to enjoy his wife and children in Cypress, CA.
Books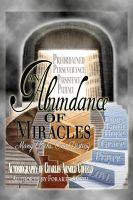 An Abundance of Miracles:The Autobiography of Charles A. Cofield
by

Foraker Smith
twenty-year old howard university student, charles cofield, watches people riot in the streets of washington d.c. they are anguished over the assassination of martin luther king in memphis, tennessee. hours later he falls from his dormitory bunk and his neck is severely injured. his life in that very instant is changed forever. his ather and mother pray and place Charles in god's hands.
Foraker Smith's tag cloud