Divyanshu Parashar
Biography
"Divyanshu Parashar is 16 years old from Kathihar,

Bihar.He lives with his wonderful parents and a loving

younger brother and sister. He is passionate about

writing and wants to build a career as an author.

This novel will make him the youngest novelist in

Kathihar, Bihar and, one of the youngest writers in India.

He loves to study and write, so much so that he

topped his school in Matriculation and aims to repeat

the feat in 12th standard again.

He is a sensitive, observant boy and in the short span

of 16 years he has seen, felt and observed more than

most people, this book is a product of the deep

observations he has made about life and people, sucess

and failurs and more. He hopes his story with resonate

with yound adults and they will enjoy reading reading

and being a part of the story."
Books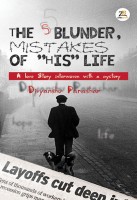 The 5 blunder, mistakes of his life
by

Divyanshu Parashar
Over the course of one week Sarthak tells Divyanshu about his life and how he went from being a brilliant student studying at IIT to a sad man with no hope.
Divyanshu Parashar's tag cloud