Annah Elizabeth
Biography
Annah Elizabeth writes and speaks about the power to heal our heartaches and to triumph over tragedy. She presented her talk, "The Power of 'What if' to Heal Grief," at TEDx Nacogdoches. Her writings have been featured in BlogHer, The Good Men Project, and The Indie Chicks. A four-part series on loss and healing was broadcast on BlogTalk Radio. She lives in upstate New York with her husband, numerous pets, and three, charming and witty young adult/college-aged children in varying states of independence. She can be found at The Five Facets, www.thefivefacets.blogspot.com or at thefivefacets@aol.com.
Where to find Annah Elizabeth online
Videos
The Space Between Luck & Misfortune
"You're lucky," the doctor said to Annah Elizabeth during her six-week postpartum checkup, six weeks after the death of her firstborn... On her journey from heartache to hope, Annah Elizabeth learned that, indeed, luck can be found within the midst of misfortune, if our eyes are open to the possiblity...
Books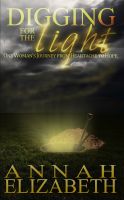 Digging for the Light: One Woman's Journey from Heartache to Hope
by

Annah Elizabeth
Following the unexpected death of her firstborn, miscarriages, a six-week psychiatric stay for severe depression, and the discovery that her best friend and her husband were having an affair, Annah Elizabeth knew one thing: She didn't want to spend a lifetime in mourning. And the way she saw it, she had two choices: She was going to die. Or she was going to live.
Annah Elizabeth's tag cloud