Phillip McAbee
Biography
Born in Louisville, Kentucky, Phil McAbee left his childhood home on a dance scholarship and since then has been a dancer, choreographer, student, teacher, computer programmer, aerospace consultant, and serial entrepreneur. A graduate of UCLA, he has taught dance in Osaka Japan, trained Boeing Space Shuttle engineers in Risk Management, and biked the south of France. While living in New York, he founded the McAbee Dance Company. And years later, after reading Jon Krakauer's, Into Thin Air, he decided to trek the Himalayas and party with the Sherpas at Base Camp Mount Everest. But wherever he has lived, he was always remembering and returning to these stories of his family that have formed his life. With The Four Little Ones, Phil provides a front row experience of growing up in the West End of Louisville, Kentucky, during one of the most dynamic periods in modern American history, the Civil Rights era. He chronicles how the siblings' search for entertainment led to a world of their own creation where quirky situations formed who and what they would become.
Where to find Phillip McAbee online
Books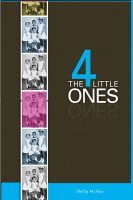 The Four Little Ones
by

Phillip McAbee
During the Civil Rights era in Louisville, Kentucky raising children in the West End of Louisville presented a challenge to Eula and James McAbee. The Four Little Ones is a collection of memories of growing up during one of the most important periods in American history. With a mix of humor, pathos, clarity Phillip McAbee welcomes you to experience the McAbee family's daily life.
Phillip McAbee's tag cloud