ej kelly
Biography
About the Author:

E.J. is a writer of 'self help' and 'how to guides'. He is an expatriate currently living and working in Europe teaching both Native and Business English. His interest includes Photography, Vintage Watch Collecting, Teaching Methods, Foreign Cultures, Travel and Languages. (Not necessarily in that order).
Born and raised in New York, Mr. Kelly started and ran several successful businesses including headhunting/consulting, human resources services for IT professionals. In addition, his entrepreneur skills allowed him to own and run a small real estate company, travel agency and one of the finest bagel delicatessens in the New York area.
Along with the above Mr. Kelly has been occasionally invited to give motivational speeches to both students and business professionals.
Listened to your heart… Follow that dream!
Books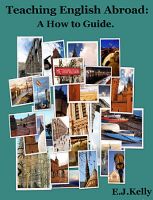 Teaching English Abroad: A 'How to Guide'
by

ej kelly
Teaching English Abroad is a practical new guide outlining the method for teaching English around the world. A 'how to guide', written by an English teacher with over ten years of experience. Written in a breezy manner, the book evokes inspiration and motivation. By the time you finish, you will have your bags packed, be ready for the challenge, and on your way to an exotic land.
ej kelly's tag cloud