Robert Newport
Biography
Art, and the study of painting, as a vehicle for probing into the relationship between natural world and the human psyche, is Dr. Robert Newport's second career following thirty-one years as a psychiatrist. Thirty-one years, during which he developed and refined his powers of observation while delving deeply into the nature of consciousness, exploring its relationship to body, mind and spirit. And when not engrossed in his practice, he was exploring the natural world both as a backpacker and sailor. Doctor Robert comes from a family of sailors and explorers who arrived with the first settlers in this country in 1607. He was born in the Midwest mid-century, and has never been in the middle of anything since, with the exception of the profound beauty and drama of the landscape. A maverick in everything he has ever done, (he was said to have invented the term "holistic psychiatry"), he came to painting naturally, if not exactly willingly. Drama was his first love; he turned down an offer for the professional theater to go to medical school. With one successful children's play to his credit, his reading of his muse's call was to write for the stage; drawing his material from the human dramas he attended as a psychiatrist. As fate would have it, it fell to him to care for his ailing mother, a successful artist herself for 40 years. In an effort to find a way to have a meaningful relationship with her, he began to paint under her tutelage and later at the Otis College of Art and Design. He found not only that he loved painting, but that it gave him both the vehicle for communicating his experiences of encountering spirit in the natural world as well as the opportunity to continue to use his powers of observation in the further development of his craft. So as a painter and world traveler, he followed in his family footsteps, his sister and niece also being fine artists of some repute. Following his retirement from medicine, he obtained an Otis certificate in fine arts and has continued his studies with private teachers.
Where to find Robert Newport online
Books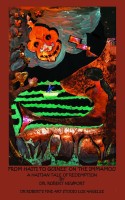 From Haiti to Guinee' on the Immamou - A Tale of Redemption
by

Robert Newport
Haiti, Tropical Paradise or Hell? I wrote this Haitian Folk Tale to illuminate the roll of the loa, nature spirits, in supporting the Haitian People in a continuing desperate struggle for survival in a seductive, but very dangerous part of the world. The book is illustrated with photographs of a Haitian themed sculpted wall hanging made of flamed copper sheeting.
Robert Newport's tag cloud