Ronald OW Scott
Biography
I am a Metis Nation of Ontario member in Thunder Bay area, but I am from Kingston Ontario and I was born in Belleville Ontario. Well I never thought myself to be a writer, frankly I was always so busy with work; that I didn't have much time to think at all LOL When I left my job and wasn't working anymore, I began to spend more quality time with our daughters. It was these moments that began to inspire me with ideas and the ability to discover more of what kids like. My first book came to me when all three of our daughters were having (as they put it), "A Horrible Day". When I asked them why they're day was so horrible, they all replied; "I don't know" So to cheer them up I began to tell them what I thought a horrible day was and by the end they we're all smiling, laughing and happy. Achieving my goal of making they're day better, I honestly thought nothing more of the story; that is until the next day when I picked the girls up from school. When I got them from school, they wanted me to tell other kids at school the horrible day story; so I told the story and all of the kids laughed. When we got home I told my girlfriend about all of this and told her the story, she immediately told me I should write a book. So about two weeks later I finished writing my first children's book, then approximately two weeks after this; our one daughter gave me the inspiration for my second children's book called "I'm Still Freezing" My second book took me about a month to write, because it is a longer story and had more character story lines in it. Still there I was two books written in under two months and now I had to figure out what to do with these stories. I first went to see a very good friend of mine because, he himself had written & illustrated several of his own books. He loved both stories and told me I have to produce these books, he remembered that I use to draw and he suggested that I illustrate my own pictures. So here again I never thought of myself as an artist, but off I went on starting the illustrations for the first book. At first I started with story line backgrounds and it was coming along quite well, my girlfriend and our daughters loved the drawings. Now this is where I inspired our daughters to get involved in the book; the girls wanted to draw characters for the book. I was delighted to have them help me with the illustrations and make a personal mark in the book that they had inspired me to write. They did an amazing job with the illustrations, I'm very proud to have been able to share this special time with them on our book. Our oldest daughter illustrated the teacher & dog, our middle daughter illustrated the main character and from our youngest daughter Herbert The Bunny was born (he can be found hiding throughout the books). None of this would have been possible if not for the inspiration, support and love of my family. The fact that a horrible time in my life gave me the time I needed to create a book with our daughters, shines through the real lesson of my book. The lesson that things always get better, you just need to keep your eyes open and seize the opportunity when it presents itself.
Books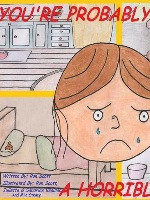 You're Probably Having A Horrible Day If...
by

Ronald OW Scott
Having a Bad day is never a good thing, but having a Horrible Day is awful. So no matter how bad your day may seem, remember it could always be worse. You could be having a Horrible Day.
Ronald OW Scott's tag cloud