Deavin Ross
Biography
As a man who passionately love's God, he strives to live his life with dignity and integrity that brings glory to Him. As a man who has cultivated a lifestyle of prayer, he remains in tune with the voice of God, and daily submits His will to Christ as a true man of God; husband and father. Deavin found a new way to express and experience love, when he met his wife, Tiffany Ross. Both were married prior to meeting each other. Therefore, the love that that have found within one another, with Christ being the center of their union, has caused them to know the true meaning of a divine connection, as their Love Overcomes Virtually Everything - the 2nd time around. Deavin is a man filled with determination, and dedication, which will not allow his past to impact his newly found love. He takes every trial and tribulation that afflicted his soul to ignite passion, prayer, and purpose in his marriage with his wife, Tiffany Ross.
Where to find Deavin Ross online
Books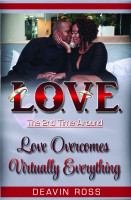 Love The Second Time Around (Love Overcomes Virtually Everything)
by

Deavin Ross
In this book, he encourages men to go deeper in prayer and worship while in the midst of their marital struggles, and divorce process. Gain strategies and insight on how men can heal from the detriments of divorce, establish blended families, and rebuild their confidence as a man & husband! Women who desire to be a wife to a Godly man he provides sound counsel and wisdom for preparation.
Deavin Ross' tag cloud