Mickey Martinez
Biography
I believe in myself, I believe in unicorns, fairies, and my next door neighbor, because it would be unwise to say otherwise. I believe that the secret of the world is that it wants to be noticed. I believe that cats were solely created to play piano. I believe in life after death and I believe in the silence that comes with that statement. I believe in an all-powerful God who controls everything in the universe, and I believe in free will. When I was a child, I believed that the gnomes in my backyard moved, now I believe that the gnomes in my backyard are part of a coalition of ordered gnome governments whose mission is to scare children into believing gnomes can move. I believe that the cure for cancer is hidden in the mind of someone who can't afford an education. I believe that I literally found the best woman in the world to marry.
Where to find Mickey Martinez online
Books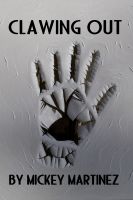 Shorts by Mickey
by

Mickey Martinez
Price:
$1.99 USD.
Words: 13,890.
Language: English.
Published: December 10, 2013
. Categories:
Fiction
»
Mashups
The stories that are written here are all personal. They come from somewhere deep inside me and I wanted to share them with the world because I am a very open person, only not really. These stories, in one way or another, had to be told, they were CLAWING OUT.
Mickey Martinez's tag cloud