Theo Willem
Biography
The first thing I do after waking-up is turn on some (Adam) Ant music.

I then grind my coffee fine, very fine. Then I pour hot water over it, piping hot, creating an aroma explosion in a paper filter.

I then go to the Drudge Report to find out what the real news is -- like all the lemmings in America's news corporations, constantly checking what Matt Drudge is posting next.

I then put some more sugar in my coffee and go to work -- to work for those who don't.
Books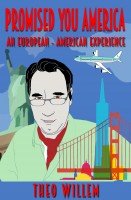 Theo Willem's tag cloud