Jeff Olson
Biography
Jeff Olson is an architect and planner who has been involved in greenways, open space, active living and alternative transportation projects for more than 20 years. He has had a diverse career with experience in the public, private, and non-profit sectors. His unique vision and leadership ability are important assets to projects ranging from regional planning to site specific projects and programs. He is an avid bicyclist and skier who has the perspective of a parent with three young children.

From 1998-2001, Mr. Olson served as Director of Millennium Trails, an award winning initiative to create a national network of trails as part of America's legacy for the year 2000. The Millennium Trails partnership was supported by the White House Millennium Council, the U.S. Department of Transportation, American Express Company and a "Green Ribbon" panel of national leaders. From 1993-98, he served as the New York State DOT Bicycle and Pedestrian Program Manager and supported the development of the 1,000 mile state bike route system, the 350 mile New York City Greenways system, the Erie Canal Trail and the Hudson Valley Greenway. He teaches America's first university course in bicycle and pedestrian planning, and is Co-Director of the SUNYA Initiative for Healthy Infrastructure, which creates model plans connecting public work with public health.
Books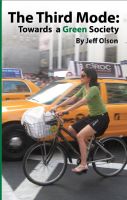 The Third Mode: Towards a Green Society
by

Jeff Olson
Jeff Olson's experiences in the nonprofit, public, and private sectors of the sustainable transportation field have made one thing clear: when most people think about transportation they often consider only two options, highways and mass transit. Through his experiences, Jeff realized that walking and bicycling are unique forms of mobility that represent a separate, Third Mode of transportation.
Jeff Olson's tag cloud