Marlinda Boxley
Biography
Marlinda Boxley is the Executive Director of Innovation in Education Reform. She is an educator with twenty years of experience in the field. Her career spans both K-12 and higher education. Her areas of expertise include: faculty development, instructional technology, online learning, STEM career advising, gifted education programming, special education programming, curriculum and instruction, out of school time programming, strategic planning, program evaluation, data-driven decision making, grant writing and report preparation.
In the K-12 sector, Ms. Boxley served as a: Teacher, Advocate, Compliance Specialist, Consultant, Special Education Administrator, Special Education Liaison, and Assistant Principal. In the higher education sector, she has a served as a(n): Adjunct Professor, Instructional Designer and Self Study Coordinator. Ms. Boxley has taught undergraduate and graduate courses in the fields of education, business and law. She has taught the following courses: Business Law, Paralegal Studies, Training and Development, Principles of Supervision, Developmental Reading, Special Education Law and Legal and Ethical Issues in Education.
From The American University, Ms. Boxley earned a Bachelor of Science Degree in Business Administration and a Juris Doctor Degree. From The George Washington University, she has earned a Master of Arts Degree in Education and Human Development, an Educational Specialist Degree in Educational Administration and an Educational Specialist Degree in Higher Education Administration.
Ms. Boxley has contributed to the field of education through various scholarly pursuits. She has presented at local, regional and national conferences and served as peer reviewer for state, local and federal grant programs. She is committed to implementing educational reform in the nation's public schools and has dedicated her career to ensuring that both youth and adults have access to high quality educational programs. Her pursuit of excellence is an inspiration to both youth and adults. Ms. Boxley resides in Maryland and has a daughter who is a Master of Public Health student at Columbia University.
Books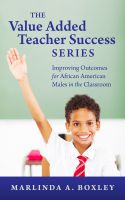 The Value Added Teacher Success Series: Improving Outcomes for African American Males in the Classroom
by

Marlinda Boxley
In the current era of school accountability and reform, new and veteran teachers will need to implement innovative strategies to improve student achievement and performance for all students. The Value Added Teacher Success Series was developed to provide educators with the tools to make an impact upon all learners in their classroom.
Marlinda Boxley's tag cloud