Peter Fourie
Biography
Being told I had Type 2 Diabetes and further that I was obese made me angry. I decided that I needed revenge on these people and what better way to do this than by turning the situation around. A visit to a Nutritionist was a negative experience, being told that I couldn't do this by myself and that my goals were too optimistic. This from someone meant to be helping me. All she wanted was for me to keep going back to her so that she would be paid more.
I lost 24 kilograms (112 to 88 kilograms), my waist reduced by 10 centimeters and my blood sugar retention dropped by 50%. Because I had been in the diabetic range for less than 3 months, my doctor declared me non-diabetic. I achieved this without any further paid professional help, meal replacements or pills. Needless to say, my doctor was delighted with his model patient.
I realised that many others were in this same situation so I began to research. I found that many of those who succeeded in the lifestyle change necesary to sustainably lose significant weight had like me unwittingly found a strong personal reason to do so. Those still struggling with weight loss simply found excuses and wouldn't make the necessary commitment because they were not motivated to do so. They simply wanted to lose weight and got depressed trying to do so.
Mostly what I read during this time was about dieting and strenuous exercise but little if anything about motivation or setting and achieving goals. I know much about the latter having been an executive in multinational companies and run my own businesses for over three decades.
I believed that sharing my story and the tools I used would help others to achieve sustainable lifestyle changes without crash diets, magical elixirs or strenuous exercise.
Books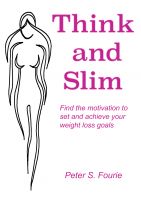 Think and Slim
by

Peter Fourie
Most weight loss books focus on diet and/or exercise but few deal with the key to lifestyle change, the motivation to act. This book will help to find your motivation and set achievable lifestyle changing goals and give you some tools including a self-audit and an action plan to help you stay on track to reach your healthy weight without going to a gym, starvation diets or stenuous exercise.
Peter Fourie's tag cloud