Thomas D'Agnes
Biography
Thomas D'Agnes spent 36 years living in Thailand, Indonesia, the Philippines, and Laos working in family planning and public health. He worked with Mechai at the Population and Community Development Association (PDA) in Thailand from 1978-82. He has worked for the US Agency for International Development (USAID), the Asian Development Bank (ADB), and taught at the University of Southern California. He is currently the USAID representative at the US Embassy in Vientiane, Laos.
Where to buy in print
Books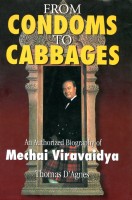 From Condoms to Cabbages
by

Thomas D'Agnes
From Condoms to Cabbages: An Authorized Biography of Mechai Viravaidya In Thailand, a condom is called a "Mechai". Mechai Viravaidya, Thailand's Condom King, has used this most anatomically suggestive contraceptive device to turn the conventional family planning establishment on its head. First came condom blowing contests, then T-shirts with condom shrouded anthropomorphic penises...
Thomas D'Agnes' tag cloud