Thomas Fields
Biography
Thomas Fields is a research physicist who has carried out high energy physics experiments and projects at Argonne National Laboratory and at Fermi National Accelerator Laboratory for many years. He has also served on the physics faculties of Northwestern and Carnegie-Mellon Universities, as well as on a number of national and international science advisory committees. At home, he finds many rewarding challenges as a husband, father, and grandfather. His recreational activities include travel, gardening, computing, writing, home maintenance, and outdoor adventures.
Where to buy in print
Books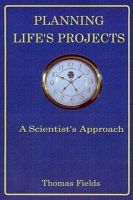 PLANNING LIFE'S PROJECTS: A Scientist's Approach
by

Thomas Fields
This is a book about actions. It explores many practical aspects of the idea that each of us is defined as a person by our deeds, not by our words. Its goal is to describe, in a simple way, how each of us can plan our own actions, within larger programs of action called projects, to make each stage of life more whole and more meaningful.
Thomas Fields' tag cloud