Thomas Turner
Biography
Old dude who's been around. Check out this book, eh? My dog's name is Harley Ray Davidson.
I was born in Berkeley, and worked in East Oakland until 1988, when I moved my family to the great northwest. I've lived a crazy life, and now well meaning folks tell me I'm a survivor. I am a gear head, and in the early 1970's I ran a 57 Chevy with a Corvette 327 and a Muncie 4-speed, banging gears and breaking shit every freaking week. Now, I'm retired and smarter. I cruise around Portland Oregon in a bad ass 2007 Mustang GT. I've published 3 other freaky books, which are available on Amazon. In addition, 2 of them have been produced as audio books. My ultimate goal is to get 96 Shades Of Dead made into a cool movie. Age is a damned number, and can create a positive or negative mind set. I advise you to follow your heart and dreams, and enjoy your life.
Books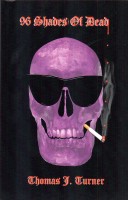 96 Shades Of Dead
by

Thomas Turner
High octane Supernatural Gangster Story featuring Jack 'The Pounder' Scarpino, capo for the San Francisco branch of The Bardino crime family. Violent, profane and funny. After a 40 rear run of gratuitous violence and shameless hedonism, Jack's life goes bad, and he fights for his life, as well as seeking redemption and forgiveness. He is joined by loyal Wise Guys and The Skull Digger's MG.
Thomas Turner's tag cloud