Thomas Wesley Scott
Biography
A music teacher by trade, Thomas Wesley Scott is obsessed with self-improvement in all areas of life, and wants to share his findings with the world. Once notorious for his ability to sleep in, eat cookies by the box, and play video games at all hours of the night (and morning), Scott is now known for his astonishing work ethic - balancing two jobs (music teacher and author) with pursuing a higher education (studying French, Japanese, Ancient Greek, and university-level mathematics), while somehow finding time every day to spend with his wife and 2 kids. All this, and he seems to get younger as he ages, having successfully overcome various physical ailments such as asthma, a repetitive strain injury to both hands, and a leaky heart valve.

Always looking to find a way to make life better for himself and those around him, Thomas Wesley Scott does everything in his power to blaze a trail for others to follow, bringing health, happiness, and prosperity to all who are willing to embrace change, often using simple "hacks" to dramatically change the mind and body, and unlock the potential that is seeded deep within all of us.
Books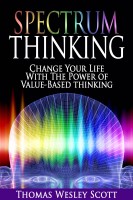 Spectrum Thinking
by

Thomas Wesley Scott
Unlock your potential in all facets of your life, using the power of Spectrum Thinking. Learn how the power of value-based thinking can help you become smarter, fitter, happier, and improve your chances for personal and professional success. Find out how Spectrum Thinking can be used to improve all areas of your life, no matter your life circumstances, dreams, or desires.
Thomas Wesley Scott's tag cloud