Thomas Stearns
Biography
Thomas H Stearns is a genealogical researcher specializing in telephone interviews and on-line research who was involved in the Simmons investigation. An active Find-a-Grave cemetery hunter he has several hundred memorials to his credit, concentrating on New Hampshire cemeteries. He's the author of the McGraw-Hill textbook entitled Flexible Printed Circuitry and many technical papers and magazine articles in the same field. Hobbies include sailing and sailboat building, photography, high fidelity music reproduction. He lives in southern New Hampshire with his two beloved altho elderly cats.
Books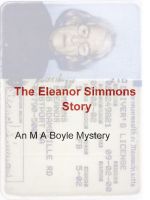 The Eleanor Simmons Story
by

Thomas Stearns
A true-life genealogical mystery and its solution. Details a two-year hunt to identify the heirs to a $1M Massachusetts estate, tracking the day-by-day efforts of a professional genealogist and crew as they struggle to identify a woman who lived in a close community for 80 years and never discussed her family. Will appeal to genealogists and researchers, anybody curious about assumed identity.
Thomas Stearns' tag cloud