(Timbo) Timothy R. Heefner
Biography
Timothy (Timbo) Heefner, a Civil Servant, was assigned to Germany for 13 years, living the last 10 in the Oberpfalz and Bavaria Region. He integrated wtih the local culture and learned the customs, superstitions, unwritten rules, as well as the language of his host Country. He shares the Cultural Differences and How To Find The Magic Formula (FTMF AMI) as an American in the Oberpfalz, Bavaria, Germany in his upcoming book.
Books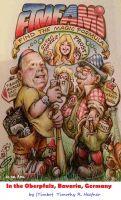 Find The Magic Formula in the Oberpfalz, Bavaria, Germany
by

(Timbo) Timothy R. Heefner
Learn about some of the cultural differences and superstitions between the USA and in the Oberpfalz, Bavaria, and Germany. The author uses some funny double meanings in the headings to draw your attention span to some funny, some practical, and some myths regarding the differences between the two Countries.
(Timbo) Timothy R. Heefner's tag cloud